Učlanjen(a)

22.06.2021.
Poruka

253
Rezultat reagovanja

147
Moja konfiguracija
CPU & cooler:
Intel® Core™ i5-11600K & Be quiet! Pure Rock 2 Black
Motherboard:
Gigabyte B560M AORUS PRO
RAM:
32GB DDR4 Kingtone Fury Beast
VGA & cooler:
MSI GTX 1060 6GB Gaming X
HDD:
KINGSTON SA2000M8250G + KINGSTON SA2000M81000G + KINGSTON SH103S3120G
Sound:
Logitech Z623 2.1 Speaker System with THX Certified Audio
Case:
Thermaltake S100 TG
PSU:
Seasonic FOCUS GX-650W Gold, 80PLUS®
Mice & keyboard:
MX Keys & MX Master 3
Internet:
ADSL 100/8 Mbps
OS & Browser:
Windows 11 & Firefox
Taj ventilator je 150gr

Ne svidja mi se uopste ideja da mi ta tezina visi na maticnoj ploci

A sto Liquid Freezer II 240 tice moram da premerim ponovo mesta u kucistu, nesto mi se ne uklapa 4cm debljina radijatora, napred bih moglo da stane ali pa onda bi pumpa bila u polozaju koji nije pozeljan.
Ne znam sta menja stvar ali ajde, ploca je Gigabyte b560m aurous pro, Thermaltake Chaser A31kuciste, dva ventilatora napred ubacuju vazduh na 400rpm, pozadi jedan izvlaci vazduh koji je podesen da prati senzor CPU-a i koji radi od 600 do 1200rpm, na CPU je ventilator koji radi od 700 do 1800rpm, 1800rpm samo na preko 80C.
Evo trenutno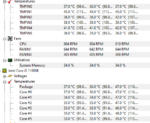 Tako podeseno hladnjenje mi daje izuzetno tihu masinu, jedino sto sam cuo u njoj je bio HDD koji sam prosle nedelje izbacio bas zbog tog i ubacio jos jedan M2 od 1TB, tako da jedini sum sada mi pravi grafika ali je ok nju ne mogu da izbacim

Edit: Inace svi ventilatori su isti Arctic P12 PWM PST