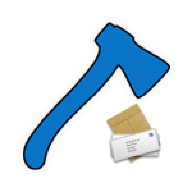 Učlanjen(a)

28.07.2009.
Poruka

5.702
Rezultat reagovanja

357
International Gaming Festival 2016 – Novi Sad
U velikoj sali Sportskog i poslovnog centra Novi Sad, Vojvodina (SPENS), po prvi put održaće se međunarodni festival igara (International Gaming Festival – IGF) koji će okupiti igrače iz celog sveta.
Glavni događaji Festivala biće turniri u četiri kompjuterske igre (Dota 2, Counter Strike, League of Legends i Hearthstone), kartaškoj igri Magic The Gathering i igri na konzoli - PES. Pored toga, održaće se i mnoga manja takmičenja u stonim igrama poput X-Wing i Warhammer, kao i raznim igrama na konzolama - PS4 i Xbox.
PCAXE ekipa će prisustvovati IGF-u u sastavu Proka, Atila i Dule, ali će imati i štand na kome će izložiti svoje modovane računare, ali i računare naših poznatih modera (neSSa i Sinda). Takođe, pripremljeno je i par iznenađenja, te pogledajte video najavu koju smo vam pripremili!
Opširnije...