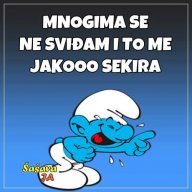 Učlanjen(a)

20.04.2013.
Poruka

3.249
Rezultat reagovanja

940
Moja konfiguracija
CPU & cooler:
Intel i5-8600k 4.20 GHz, Xigmatek Gaia SD1283
Motherboard:
MSI Z370 Krait Gaming
RAM:
Geil Evo Forza 16GB (2x8) 3000 MHz DDR4 CL16
VGA & cooler:
MSI GTX 1070 Ti Gaming 8G
HDD:
Sistem - Samsung 250GB 850 Evo, u racunaru - 640 GB, 3 TB, Rack LC-35U3 - 3 TB, 3 TB & 4 TB
Sound:
Dual Realtek® ALC1220 Codec
Case:
MS Industrial Winston
PSU:
Thermaltake Toughpower XT TPX-675M 675W
Optical drives:
Samsung SH-224BB/BEBE
Mice & keyboard:
Motospeed V10
Internet:
Telekom VDSL 50/8
OS & Browser:
Windows 10 Pro x64, Google Chrome
Sve je to OK, jedino mi smetaju uvredljivi komentari koji krse pravila foruma i naravno kao i uvek posle takvih komentara se zapocinje rasprava i upropastavanje svake teme.

Pravilo br.3
Ajde sada uzmi pa otvori ovaj pravilo pa iscitaj temu do kraja. Pa da vidis kada dule i jos jedan moderator pisu gluposti i na kraju sve to po njihovom pravilu dva ostane zapisano a drugo ona seljana od pisanja i ubacivanja slova H u reci je nesto sto je najodvratnije u pisanju sto mogu da urade.
I onda level master arogancije:
PA mi mozemo da pisemo shta hocemo. I mi mislimo da je ovo glupo i sto bi mi to sad obrisali :brick:
I ovo su moderatori. Nije ni cudo sto je forum otisao u PM.